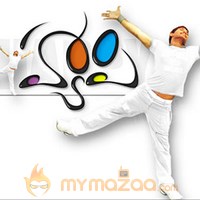 Happy Review
by

MyMazaa.com
---
Everything about Happy is for hero Allu Arjun. The storyline and narration are prepared to match the hero and it has indeed worked really well. The director of the film Karunakaran has succeeded in presenting the story in a touching manner. He also has succeeded in bringing out appropriate characters for the lead pair.
In the film, Madhumathi (Genelia) is from a family where women are stuck to the kitchen. Her father is a caste fanatic and feels that she doesnt need education. However, she tries to break free from this cocoon and become a doctor.
Meanwhile, Bunny (Allu Arjun) enters Madhumathis life when she is doing 3rd year MBBS. They hate each other and tease all the time but some events change their life forever. Circumstances lead them to live together in spite of hating each other. Then Bunny decides to mend all the wrongdoing. You will have to watch the film to know what mistakes he has made and how he corrects them.
Allu Arjuns performance in the film is wonderful and he does his role with ease and elegance. He has proved that he can do both fight and dance sequences with equal ease. He is there to expose your laughter veins in the first half and then makes you cry in the climax scene. Genelia looks wonderful in the film and she really matches the hero. Manoj Bajpai also has done the role of DCP well. Vijays role as Bunnys friend is vital to all the happenings in the film. Venu Madhav, Ramaprabha, Sita and Tanikella Bharani have all done their part well.
Camera work by RD Rajasekhar is fine and editing is brilliant. The technical aspect of the film especially in the song sequences deserves special mention. Yuvan Shankar Raja's music is one of the highlights of the film with good lyrics by Sitarama Sastry and Kulasekhar.
Director Karunakaran has corrected the mistake he has made in his earlier films and he has successfully used the sequences of Tholiprema for this film. He has used education theme very well. His presentation style and creativity are there for all to see with beautiful scenes between Allu Arjun and Genelia. Moreover, the climax scene really touches the heart.
On the whole, the director has done a wonderful job. The first half of the film is full of entertainment and moves at a fast pace while the second half contains the main story. The climax scene of the film is very touching and director Karunakaran deserves all the praises for the excellent work. It is a good film and film buffs should not miss it.