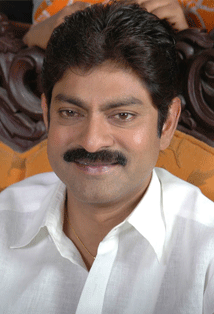 Jagapati Babu ( pronunciation (help·info), Telugu: జగపతి బాబు) (born 12 February 1962) is an Indian
Jagapati Babu (born Veeramachaneni Jagapati Rao Chowdary) made his debut in Telugu Cinema with the movie Simha Swapnam in the year 1989. The movie, starring rebel star Krishnam Raju in the lead, was directed by his father. He has acted in about a dozen movies (playing lead roles in few), but was unable to build up his stardom.
He had his breakthrough in the form of Gaayam directed by Ram Gopal Varma in the year 1993. Since then, he has had several hits. He won the Nandi Award for Best Actor in 1996 for his role in the movie Maavi Chiguru directed by S V Krishna Reddy. Two years later, he won the Nandi Award for Best Supporting Actor for the film Anthapuram.
In 2000, he won the Nandi Best Actor Award for the second time for his performance in the movie Manoharam. Similarly, he bagged the Nandi Best Supporting Actor Award for the second time in the year 2007 for his role in the movie Lakshyam. His first tamil film is Madrasi (2006) and In 2011 which play as Antagonist in Thaandavam.
He was recently roped in to play a key role in the movie Jai Bolo Telangana