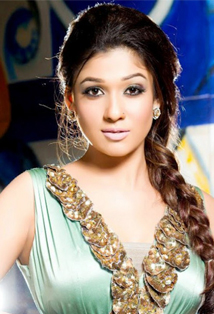 Alias
Nayan, Diana Mariam Kurian
Age
32 years
Height
5'8"
Weight
55.00 Kgs
Occupation
Actress
Language Worked in
Telugu, Tamil, Kannada, Malayalam
Spouse

Prabu Deva

Birth Place
Thiruvalla, Kerala, India
Eye Color
Black
Hair Color
Black
Education
she studied at Balikamadom Girls Higher Secondary School and then attended
Marital Status
Divorced
Parents

Kurian Kodiyattu

,

Omana Kurian

Brothers

Lenu

Favourite Cuisine
North East India
Favourite Color
Black
City
Kerala
Nayantara (born as Diana Mariam Kurian) is an Indian film actress, who mainly appears in Tamil cinema along with Telugu, Malayalam, and Kannada language films. She made her acting debut in the 2003 Malayalam film Manassinakkare and followed with the successful Vismayathumbathu (2004) before foraying into Tamil and Telugu cinema.
Nayantara was born to Malayali Syrian Christian parents, Kurian Kodiyattu and Omana Kurian.Her brother, Leno, who is nine years elder to her, lives in Dubai. As her father was an Indian Air Force official, she studied in various parts of India, mainly in North India.
She did her schooling in Chennai, Jamnagar, Gujarat and Delhi. Following his retirement, they settled in Kerala, where she continued her college studies, at the Kendriya Vidyalaya schools in Kerala.
In Tiruvalla, she studied at Balikamadom Girls Higher Secondary School and then attended Marthoma College for her bachelor's degree in English Literature. She has said that she would have become a chartered accountant if not an actress.
While shooting for her Tamil film Vallavan, she was romantically linked with the film's director and co-actor Silambarasan Rajendar. She initially denied the reports. In November 2006, however, she confirmed that she and Silambarasan had broken up, going on to add that she will not work with him again.
During the making, in 2008, and after the release of her film Villu, reports suggested that she was in a relationship with its director Prabhu Deva, with some sources even claiming that both had married secretly in June 2009.She had tattooed his name on her wrist, and began appearing with him in public, while keeping silence and refusing to comment about the issue, neither denying nor confirming the relationship.
In September 2010 then, Prabhu Deva openly confessed his love for Nayantara and further stated that he would marry her soon.The issue soon gained media attention and turned into a controversy, since Prabhu Deva was already married and not divorced yet, with his wife Ramalath, unwilling to agree for a divorce, filing a petition at the family court, seeking directions against her husband and Nayantara from marrying, attending functions together and receiving awards as husband and wife and requesting a reunion with him.
Furthermore, Ramalath threatened to go on hunger strike, if Prabhu Deva married Nayantara,[57] while several women's organizations also conducted protests against Nayantara for "bringing disrepute to Tamil culture", burning an effigy of her. In 2012, Nayantara confirmed that she had ended her relationship with Prabhu Deva