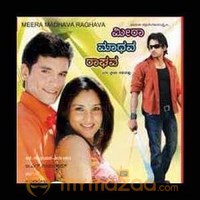 Meera Madhava Raghava Movie Reviews
Meera Madhava Raghava Review
by

MyMazaa.com
---
A woman's best protection is a little money of her own says the book 'Wit of Women'. If women didn't exist all the money in the world would have no meaning says another quotation. Keeping these quotes in mind if we see the reputed director T.N.Seetharam's 'Meera Madhava Raghava' (MMR) it moves you very much as the protagonist suffers for money for the good of her husband. Meera in T.N.Seetharam 'MMR' is like a teabag €" you can't tell how strong she is until you put her in hot water. Meera in 'MMR' is so exploited that it becomes obvious for her self prestige to show her mettle. A ruffian proves to be better than her husband for whom she struggled throughout. She walks out from his life. Too many homes are built on foundation of crushed women! This is similar in 'MMR'.
Why T.N.Seetharam of the mega hit 'Maayamruga, Manvanthara and Muktha' television serials and critically acclaimed film 'Mathadana' (made six years ago based on Dr.S.L.Byrappa's novel) becomes great is because he handles the struggle of a woman who is caught in the hands of a rowdy and her husband who is a Deputy Commissioner for her struggle.
The story is the unusual stuff in 'MMR'. The way director of repute T.N.Seetharam presented it is excellent. For the fans of television supreme director Seetharam this is an unadulterated entertainment which they lap up.
Rowdy Raghava (Thilak) is immensely in love with a middle class singer Meera (Ramya). The family members of Meera are taken aback when Raghava comes with a proposal to marry Meera. No says everyone and shocked with such a move they declare that Meera is engaged to Madhava in Mysore. A rowdy with principles hesitantly go away from the scene.
After marriage to Madhava a lecturer in Mysore Meera a prolific singer finds an opportunity to go to Mumbai on Rs.40000 salary per month. She does not take up this but help her husband to pursue IAS. Madhava goes to New Delhi for eight months stay to get IAS position. In the process Meera is dumbstruck here when she is told that there is very little share for her in her father's house. She is forced to make a loan of Rs.10 lakhs from Raghava who is running a finance company.
At this juncture the clever Raghava force Meera to make a forgery of her husband signature on a stamp paper for loan of Rs.10 lakhs. Again Meera is in trouble when Raghava ask for the monthly interest of Rs.30000 for Rs.10 lakhs loan. He asks her to sing in his posh pub. She is compelled to do so. Meera on return of her husband as Deputy Commissioner has very little time to readjust with Madhava in life.
Problems crop up again when Deputy Commissioner Madhava rusticates Raghava from his district for his anti social activities. This is a major blow to Meera his wife but not to Raghava which the DC is not aware. It is time for Raghava to take stock of the situation. He produces the forgery document what Meera has made to DC Madhava. Over night Madhava arrange for the return of loan to Raghava but his wife Meera is not able to get hold of the papers which she has signed and given to Raghava. Now Raghava makes it very clear to cancel the rustication order passed on him so that he can contest the by election. Madhava asks his wife to pretend as Raghava's lover and get back the papers. Meera even goes to this extreme. At this point of time Meera shoot Raghava from his pistol and out of fear she is not able to get the papers. Raghava is hospitalized and Madhava is furious about this incident. He decides to divorce his wife Meera. Meera on return from hospital apologizing with Raghava pack her luggage and say good bye to Madhava.
This is a very lengthy and tough role for Ramya to perform. She has been very convincing in emotion filled role and she is sure to be in the race for awards. Thilak as rowdy is brilliant. Diganth a DC in the film fails to live up to the expectation. It is a touch and go role for a dozen television artistes in this film.
Hamsalekha scores a peppy tune, a remix song and a very melodious song. H.M.Ramachandra's cinematography is also extremely good.
This is a must see film for the entire family.