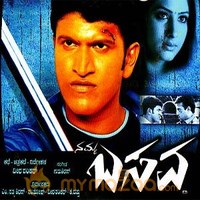 Namma Basava Movie Reviews
Namma Basava Review
by

MyMazaa.com
---
In his debut direction in Kannada Veerashanker is good in bits and pieces. All is not well in 'Namma Basava'. Comparing Puneeth earlier films is inevitable. 'Akash' is a much better film than 'Namma Basava'. Puneeth's excellence in stunts and cool as cucumber in acting is not just enough. Reaching out to some reality in creating scenes is very important. The beautiful Gowri, two good tunes and tolerable photography lift the film from mediocre level.
Basava is a straightforward youth who has both brain and muscle power. His brother is a traffic inspector and his sister in law is everything for him. Basava is a boy next door. He is generous and very helpful. The cantankerous Basava who often show his muscle power in the streets is advised by his brother to change his route. When Basava does not agree he is asked to get ready for marriage. What Basava is interested is love marriage. He falls in love with a musician Gowri (piano player) but the wealthy rich and spoil brat Pampathy sub junior is behind her. For the sake of safety of her family Gowri accept the betrothal but she is actually in love with Basava. The pent up frustration finally lands Basava in throwing a challenge to the huge rich family that control the government. Basava wins in his style and gives the insult meted out to him in the same place in a multifold.
The character of Puneeth Rajkumar is partially different. Basava fights like a bull. All the stunts of Puneeth are natural. In dance and action he is peerless. Gowri (of Bunny fame) looks beautiful and she delivers her portion convincingly. She has a very good future too. Kota Srinivasa Rao has been in his usual best. Sudharani and Avinash pair is commendable and they render good support.
This is an average entertainer.