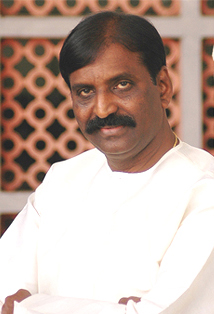 Alias
Kaviyarasu, Kaviperarasu
Age
64 years
Height
5'8"
Weight
65.00 Kgs
Occupation
Lyrics
Language Worked in
Tamil
Spouse

Ponmani Vairamuthu

Children

Madhan Karky

Birth Place
Vadugapatti, Theni, Tamil Nadu.
Eye Color
Black
Hair Color
Black
Education
M A Tamil
Marital Status
Married
Parents

Ramaswamythevar

,

Angamma

Favourite Cuisine
Indian Cuisine
Favourite Color
Black, White
City
Chennai
Vairamuthu was born to Ramaswamythevar and Angammal of Mettur in a middle-class family. When he was four, the village gave way to Vaigai Dam and the family moved to Vadugapatti village, community in Theni near Periyakulam.
* He started to write poems at the age of 7.
* In his school final exam in Tamil, Vairamuthu stood first in the entire Madurai District and won a silver cup.
* While studying in Pachyappa College, he was acclaimed as the best speaker and poet.
* His first book 'Vaigarai Megangal' was prescribed for study in the Women's Christian College while he was still a student.
* In inter-college competitions, he has won more than 20 prizes.
* His works have the underlying themes of humanism transcending barriers of space and race.
* According to him, moustaches are one of the identities of Tamils.
* He was introduced by Bharathiraja as a lyricist.
* On receiving invitation from the Russian Government, he visited Russia to participate in an Indian cultural event (1987).
* He has written more than 30 books.
* He has written more than 6000 songs.
* His songs are translated into Telugu, Malayalam, Kannada and Hindi.
* He took 8 hours to write 'Sangeedha Jadhi Mullai' song and 8 minutes to write 'Ettu Etta manusha Vazhkai' song.
* His book 'Aayiram Paadalgal', a collection of his best 1,000 songs, was released by Dr. Kalaignar M. Karunanidhi.
* 58 of his original poems from Tamil were translated by Balan Menonin, a Canadian, as 'A drop in Search of the Ocean: Best Poems of Vairamuthu' and it was released by Dr. A. P. J. Abdul Kalam.
* He is the Tamil Nadu President of Indo-Russian Friendship Society.
* He holds the record of winning maximum number of National Film Award for Best Lyrics.
* He has opened Tamil schools in Bangkok, Canada and Hong Kong promoting Tamil children living there to develop an interest in learning the language.
* He has introduced some foreign poets and their works to Tamil in his 'Ella Nadhiyilum En Odum'.
* He made his book 'Kallikattu Idhihasam' waterproof and threw it away in Vaigai River, so as to preserve it.
* He has a habit of talking to Dr. M. Karunandhi over phone everyday by 7 AM.
* He likes walking and he wakes up at 5 AM.
* He gives higher priority to letters received from hospitals and prisons.
* American Library of Congress has recorded his poems in his voice and has preserved them along with the other precious literary works.
* Canada has released a Stamp in his honor.
* The Library of Congress has twenty-three books by him and two about him.
* Best Lyricist Award, Tamil Nadu State Government (1981, 1995, 1996, 2006, 2008)
* National Award (1986, 1993, 1995, 2000, 2003, 2011)
* Kalaimamani Award (1990)
* Padmashri (2003)
* Sahitya Akademi Award (2003)
* Bharathi Literature Prize
* Honorary Doctorate, Madurai Kamaraj University