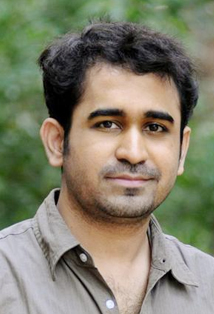 | | |
| --- | --- |
| Alias | Antony |
| Age | 43 years |
| Height | 5'8" |
| Weight | 69.00 Kgs |
| Occupation | Actor, Music Director, Singer, Producer |
| Language Worked in | Telugu, Tamil, Kannada |
| Birth Place | Nagercoil, Tamil Nadu, India |
| Eye Color | Black |
| Hair Color | Black |
| Favourite Cuisine | South Indian |
| Favourite Color | Blue |
| City | Chennai |
Vijay Antony at the age of 21, discovered that he has always been immensely interested in composing music and also in writing lyrics for the songs he composes. This indomitable interest led him to learn music and the technicalities in music. Soon, he obtained a degree from the Trinity College London and set up his own in-house studio called Audiophiles at Chennai.
Subsequently, he started looking out for a platform to exhibit his talents as a musician and as a composer.He worked at Trichy kalai kaveri for some days and came to chennai. Soon, opportunities started opening up for him to compose jingles and scores for popular Indian television features. In 2004, noted Producer Aascar Ravichandran identified his potential as a music director and offered Vijay Antony to work as a music director in his movie called 'Dishyum' which was a run-away success.
Though the first movie he signed for as a music director was Dishyum he was introduced as a debut music director through Sukran produced by S. A. Chandrasekhar. Both Sukran and Dishyum had songs with a new feel and a unique tone to it. Lyrics were notably different and soon the songs became a huge hit among the Tamil cinema audience.
After Sukran and Dishyum, Vijay Antony as a music director had no turning-back. Soon he had offers coming in to work as a music director. Through his hard, dedicated work, he has been giving consistent hits. He was the first Indian to win the 2009 Cannes Golden Lion for the Nakka Mukka commercial (for Times of India) in the Best of Music category. Nakka Mukka raised his fame and that song was played in the 2011 cricket world cup.