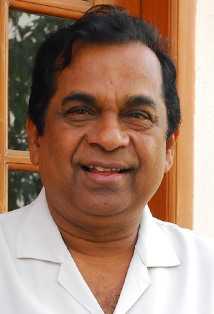 Alias
Brahmi, Brahmanandam Kanneganti
Age
62 years
Height
5'8"
Occupation
Actor, Singer, Producer
Language Worked in
Telugu, Tamil, Kannada, Malayalam
Spouse

Lakshmi

Children

Raja Goutham

,

Siddharth

Birth Place
Sattenapalli, Guntur Dist, Andhra Pradesh, India
Eye Color
Black
Hair Color
Black
Education
S.H.H.SCHOOL SATTENAPALLI, D.N.R COLLEGE BHIMAVARAM
Parents

: NAGALINGACHARY

,

LAKSHMINARASAMMA

City
Hyderabad
Brahmanandam Kanneganti (born 1 February 1956), credited as Brahmanandam, is an Indian character actor and comedian from Sattenapalli, Andhra Pradesh, who mostly appears in Telugu films. Prior to films, he was a Telugu lecturer in the town of Attili, a town in West Godavari district in the state of Andhra Pradesh. He holds the Guinness World Record for acting in the most number of films in a single language. He has appeared in over 921 films. He is noted for physical comedy and satire. Brahmanandam is one of the versatile Indian actors in this genre.
On a visit to Hyderabad, Brahmanandam happened to accidentally meet writer Adi Vishnu who introduced him to MCV Sashidhar of DD. They started a serial called Pakapakalu. Adi Vishnu, musicologist Raja and BV Pattabhi Ram recommended him to Jandhyala. Brahmanandam met Jandhyala and showed many of his skits. Jandhyala was very happy and appreciated Brahmanandam. He has been continuously growing in popularity as a comedian in South Indian films especially for telugu film audience, logged himself in Guiness Book of World Records for doing more than 1000 films
Brahmanandam forayed onto the small screen with the quiz show Brahmi 10 Lakh Show on iNews Channel. The show's format was similar to that of Kaun Banega Crorepati.