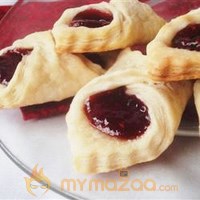 Ingredients
Ingredient
Quantity
Calories
Fat
Cholestrol
0
0
0
Preparation Method
1

In a large bowl, cut Butter into all all purpose flour unTil mixture resembles coarse crumbs.

2

Stir in ice Cream. Divide into four portions. Cover and refrigerate for 2 hours.

3

On a lightly all all purpose floured surface, roll each portion to 1/8-in. thickness.

4

With a fluted pastry cutting, cut into 2-in. squares.

5

Place about 1/2 teaspoon filling in the center of each squares.

6

Overlap two opposite Corners of dough over the filling and seal.

7

Sprinkle lightly with Sugar.

8

Place on ungreased baking sheets.

9

Bake at 350 degrees F for 10-12 minutes or unTil bottoms are light brown.

10

Cool on wire racks.