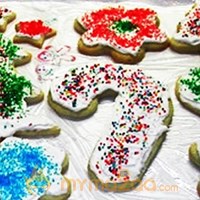 Soft Sugar Cookies Recipe
| | |
| --- | --- |
| Preparation Time | |
| Difficulty | Moderately easy |
| Occasion | Chirstmas, Birthday Party |
| Recipe Type | Sweets |
| Cuisine | Australian Cuisine |
A sugar cookie is a cookie made from sugar, flour, butter, eggs, vanilla, and either baking powder or baking soda.[1] Sugar cookies may be formed by hand or rolled and cut into shapes. They are commonly decorated with frosting, sprinkles, or a combination of both. They can also be cut into decorative shapes and figures. In North America, sugar cookies are popular during the holidays of Christmas and Halloween.
Ingredients
Ingredient
Quantity
Calories
Fat
Cholestrol
All purpose flour
4 cup
1817.6
Baking Powder
1 teaspoon
6.1
Baking Soda
0.5 teaspoon
0
0
0
Salt
0.5 teaspoon
0
Nutmeg
0.25 teaspoon
3
0.2
Butter
1 cup
1627.59
184.1
4.77
Sugar
1.5 cup
1161
Egg
1 nos
77.5
5.3
0.21
Vanilla Extract
1 teaspoon
25.14
Sour Cream
0.5 cup
241.5
23
0.46
4959.43
212.6
5.44
Preparation Method
1

Sift together the all all purpose flour, Baking Powder, Baking Powder, Salt and Nutmeg; set aside.

2

In a large bowl, Cream together the Butter and Sugar unTil smooth. Beat in the Egg, Vanilla and Sour Cream unTil well blended.

3

Stir in the sifted ingredients. Wrap dough in plastic wrap and chill overnight.

4

Preheat the oven to 375 degrees F (190 degrees C).

5

On a lightly all all purpose floured surface, roll the dough out to 1/4 inch in thickness.

6

Cut into desired shapes with cookie cutters.

7

Place cookies 1 1/2 inches apart onto ungreased cookie sheets.

8

Bake for 8 to 10 minutes in the preheated oven. Allow cookies to cool on baking sheet for 5 minutes before removing to a wire rack to cool completely.