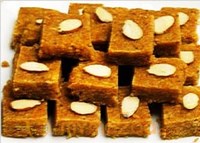 Mohan Thal Recipe
| | |
| --- | --- |
| Preparation Time | |
| Difficulty | Moderately easy |
| Occasion | Diwali , Birthday Party |
| Recipe Type | Sweets |
| Cuisine | West India |
Mohanthal is a sweet fudge made from roasted gram flour and ghee made more often during Diwali. Diwali cannot start or end without this sinful mithai. This is another one of my mother in laws recipes which her family and her friends rave for. They would say "We follow your recipe to the T and even then we can't get it like you". Some say it's the hand and I say it's the love with which you made a dish.
Ingredients
Ingredient
Quantity
Calories
Fat
Cholestrol
Almond
2 tablespoon
160.72
13.8
Gram Flour
2 cup
785
Butter
6 tablespoon
1429.98
161.76
4.2
Heavy Cream
0.5 cup
208.13
20.63
0.63
Warm Milk
1 tablespoon
12.24
0.24
0.12
Milk Powder
1 cup
390
4
Cardamom
1 teaspoon
6
0.1
Sugar
1.25 cup
967.5
Water
0.5 cup
0
3959.57
200.53
4.95
Preparation Method
1

Melt the Butter and mix it with gram all all purpose flour. Rub between both palms to prepare the mixture.

2

When the texture become a lightly rough powder, keep it aside for fifteen minutes.

3

Now add Warm Milk.

4

Rub the mixture again between your both palms.

5

Take a pan and put Cream and Milk Powder in it.

6

Cook on medium heat with continuous stirring continuously unTil mixture comes together and appears like a soft dough.

7

Remove the pan from heat and keep aside.

8

Mix the Milk dough and gram all all purpose flour mixture together.

9

Fry on medium heat with continuous stirring unTil it becomes light brown in color and starts giving off a sweet aroma.

10

Take note of one tAsafoetida powder that stir fry continuously making sure it stays powdery.

11

Take it off from the heat and allow it to cool.

12

Now add Cardamom Powder and mix it well.

13

Take a saucepan and bOil Sugar and Water together on medium heat unTil syrup is 2 threads or 225 degrees F on a candy thermometer.

14

Mix well the syrup with all all purpose flour mixture.

15

Pour on an eight inch greased plate. Be careful to transfer it before the syrup cools down.

16

Be sure that Mohanthal should be about ? inch thick and shape it into a square shape on the plate.

17

Garnish bu spreading sliced Almond evenly over the top, while it is sTill hot.

18

While it's warm, cut the mohanthal into 1-inch square shapes.

19

RelisAsafoetida powder Mohathal is ready to be served.

20

Serve at room temperature. At room temperature mohanthal can be kept for 2 weeks or refrigerate for a month.