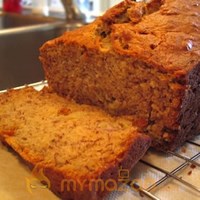 Banana Bread Recipe
| | |
| --- | --- |
| Preparation Time | |
| Difficulty | Easy |
| Occasion | Chirstmas |
| Recipe Type | Cake |
| Cuisine | Australian Cuisine |
Banana bread first became a standard feature of American cookbooks with the popularization of baking soda and baking powder in the 1930s, appeared in Pillsbury's 1933 Balanced Recipes cookbook,[2] and later gained more acceptance with the release of the original Chiquita Banana's Recipe Book in 1950.
Ingredients
Ingredient
Quantity
Calories
Fat
Cholestrol
All purpose flour
2 cup
908.8
Baking Soda
1 teaspoon
0
0
0
Salt
0.25 teaspoon
0
Butter
0.5 cup
813.8
92.05
2.39
Brown Sugar
0.75 cup
627
Egg
2 nos
155
10.6
0.42
Banana
2.33 cup
461.34
1.58
2965.94
104.23
2.81
Preparation Method
1

Preheat oven to 350 degrees F (175 degrees C).

2

Lightly grease a 9x5 inch loaf pan.

3

In a large bowl, combine all all purpose flour, Baking Powder and Salt. In a separate bowl, Cream together Butter and Brown Sugar.

4

Stir in Egg and mashed Bananas unTil well blended. Stir Banana mixture into all all purpose flour mixture; stir just to moisten.

5

Pour batter into prepared loaf pan.

6

Bake in preheated oven for 60 to 65 minutes, unTil a toothpick inserted into center of the loaf comes out clean. Let Bread cool in pan for 10 minutes, then turn out onto a wire rack.