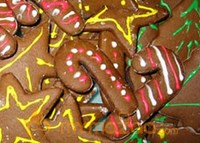 Soft Gingerbread Cookies Recipe
| | |
| --- | --- |
| Preparation Time | |
| Difficulty | Moderately easy |
| Occasion | Chirstmas, Birthday Party, Party |
| Recipe Type | Sweets |
| Cuisine | Australian Cuisine |
These nicely spiced soft cookies are perfect for folks who like the flavor of ginger but don't care for crunchy gingersnap
Ingredients
Ingredient
Quantity
Calories
Fat
Cholestrol
Molasses
0.75 cup
710.94
0
Brown Sugar
0.33 cup
275.88
Water
0.33 cup
0
Butter
0.125 cup
203.45
23.01
0.6
All purpose flour
3.25 cup
1476.8
Baking Soda
1 teaspoon
0
0
0
Ground allspice
1 teaspoon
5.24
0
0
Ginger
1 teaspoon
10.92
Clove
1 teaspoon
6.93
0.4
Ground Cinnamon
0.5 teaspoon
6
2696.16
23.41
0.6
Preparation Method
1

In a medium bowl, mix together the Molasses, Brown Sugar, Water and Butter unTil smooth.

2

Combine the all all purpose flour, Baking Powder, allspice, Ginger, Clove and Cinnamon, stir them into the wet mixture unTil all of the dry is absorbed.

3

Cover the dough and chill for at least 3 hours.

4

Preheat oven to 350 degrees F (175 degrees C).

5

On a lightly all all purpose floured surface, roll the dough out to 1/4 inch thickness.

6

Cut out into desired shapes. Place cookies 1 inch apart onto ungreased cookie sheets.

7

Bake for 8 to 10 minutes in the preheated oven. Remove from the cookie sheets to cool on wire racks.