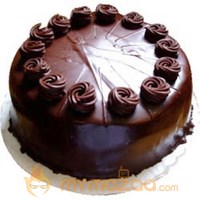 Chocolate Eggless Cake Recipe
| | |
| --- | --- |
| Preparation Time | |
| Difficulty | Difficult |
| Occasion | Birthday Party |
| Recipe Type | Appetizers |
| Cuisine | South Indian |
Chocolate Eggless Cake is baked in Oven , when what if you dont get electricity. It might have happened with you that you have prepared the batter to bake cake and suddenly there is no electricity. What to do in that case. Dont worry you can use the same batter to make a Cake in Pressure Cooker. Come lets make Eggless Chocolate Cake in Pressure Cooker.
Ingredients
Ingredient
Quantity
Calories
Fat
Cholestrol
All purpose flour
1.5 cup
681.6
Cocoa Powder
0.33 tablespoon
4.1
70.26
Baking Soda
1 teaspoon
0
Salt
0.5 teaspoon
0
Sugar
1 cup
774
Vegetable Oil
0.5 cup
991.99
112
Water
1 cup
0
Vanilla
2 teaspoon
14.78
6.14
Vinegar
2 teaspoon
2
2468.47
188.4
0
Preparation Method
1

preheat oven to 375°f. spray a small baking pan (8x12) with vegetable spray or baker's joy.

2

Combine dry ingredients directly in the pan. mix all the wet ingredients in a small bowl, combine remaining ingredients leaving out the Vinegar unTil the final step.

3

Combine wet and dry ingredients, stirring together in pan unTil well combined. stir in the Vinegar rapidly and immediately place pan into preheated oven and bake for 25 to 30 min.

4

optional: you can stir in 1/2 cup semi-sweet Chocolate chips just before baking to make a richer cake with melted Chocolate bits or swirls.