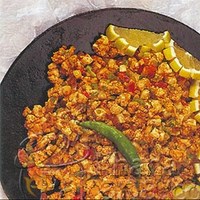 Paneer Enchiladas Recipe
| | |
| --- | --- |
| Preparation Time | |
| Difficulty | Moderately easy |
| Occasion | Dinner Party, General |
| Recipe Type | Breakfast, Sweets |
| Cuisine | Mexican Cuisine |
This extremely popular mexican delicacy leaves a lot of room for your imagination – you can feel free to experiment with any stuffing of your choice. Plus, it is also a quick-fix since the tortillas can be made in advance and stored in a deep freezer, to use whenever required. This healthy dish is a meal by itself as it has whole wheat flour, vegetables, tofu, etc.
Ingredients
Ingredient
Quantity
Calories
Fat
Cholestrol
Paneer
200 gram
804
66
2
Sugar
1 teaspoon
30.96
Onion
0.5 cup
32
0.08
Spring Onion
0.25 cup
135.11
480
Tomato
2 cup
44
Green Chillies
2 nos
7.2
0
0
Fresh Cream
1.5 cup
375
31.13
1.13
Lemon Juice
2 tablespoon
14.24
0.14
Corn Tortillas
12 nos
0
0
0
Cheese
1 cup
454.26
37.29
1.19
Oil
3 tablespoon
725.76
102
0
Salt
1 as required
0
2622.53
716.64
4.32
Preparation Method
1

Cut Paneer into 1" long and ½ " thick pieces and sauté in 1tbsp of Oil Till light brown and keep aside.

2

Heat two tablespoons of Oil in a pan, add Onion and sauté Till translucent. Add chopped green Chilieses, chopped Tomatos and Sugar.

3

Simmer for ten minutes on a slow flame, then stir in Fresh Cream, Lemon Juice and half cup of grated Cheese. Let the Cheese melt.

4

Soften torTillas in the sauce then place Paneer and chopped Spring Onion and a tablespoon of the sauce.

5

Roll, place seam side down and place into a baking dish.

6

Top it with the remaining sauce and grated Cheese.

7

Bake at 350 º C unTil Cheese melts and sauce begins to bubble.