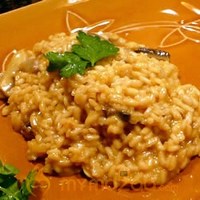 Mushroom Risotto Recipe
| | |
| --- | --- |
| Preparation Time | |
| Difficulty | Easy |
| Occasion | General |
| Recipe Type | Vegetarian |
| Cuisine | American Cuisine |
This mushroom risotto recipe is one of the most delicious variations on the basic risotto recipe.Making mushroom risotto involves stirring hot stock into the uncooked rice a ladleful at a time and cooking slowly as the stock is absorbed. This technique, called the risotto method, releases the rice's starches, making a creamy, velvety dish.The real magic in this mushroom risotto recipe comes from using mushroom stock, but vegetable stock can be substituted.
Ingredients
Ingredient
Quantity
Calories
Fat
Cholestrol
Olive Oil
1 tablespoon
228.87
25.92
Onion
3 nos
84
0.21
Garlic
11 clove
49.17
0.22
Parsley
1 teaspoon
0.86
0.02
Celery
1 teaspoon
0.72
0
Salt
1 as required
0
Mushroom
1.5 cup
30.24
0.44
Milk
1 cup
101.99
1.98
0.98
Heavy Cream
0.5 cup
208.13
20.63
0.63
Rice
1 cup
730
1.32
Mixed vegetables, cauliflower, carrots, peas
5 cup
1324.1
Butter
1 teaspoon
79.44
8.99
0.23
Grated Parmesan Cheese
1 cup
1130
13.56
3967.52
73.29
1.84
Preparation Method
1

Heat Olive Oil in a large skillet over medium-high heat.

2

Saute the Onion and Garlic in the Olive Oil unTil Onion is tender and Garlic is lightly browned.

3

Remove Garlic, and stir in the Parsley, Celery, Salt, and Pepper.

4

Cook unTil Celery is tender, then add the Mushrooms.

5

Reduce heat to low, and continue cooking unTil the Mushrooms are soft.

6

Pour the Milk and Cream into the skillet, and stir in the Rice.

7

Heat to a simmer.

8

Stir the vegetable stock into the Rice one cup at a time, unTil it is absorbed.

9

When the Rice has finished cooking, stir in the Butter and Parmesan Cheese, and remove from heat.

10

Serve hot.