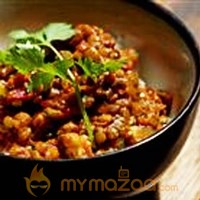 Spicy Indian Dahl Recipe
| | |
| --- | --- |
| Preparation Time | |
| Difficulty | Moderately easy |
| Occasion | General |
| Recipe Type | Curry |
| Cuisine | South Indian |
Spicy Indian Dahl which is also often spelled dhal,daal and dal, is essentially a thick lentil soup that is often prepared with ghee or clarified butter, but this recipe uses just a little sesame oil for depth and flavor in place of the ghee. This simple dahl is one of my favorite go-to recipes as it is prepared with all pantry staples, it is easy and quick to prepare, and my friends and family love it.
Ingredients
Ingredient
Quantity
Calories
Fat
Cholestrol
Red Lentils
1 cup
700
Ginger
2 tablespoon
66.06
Mustard seed
1 teaspoon
46.9
0.69
Cilantro
2 tablespoon
0.3
Tomato
4 nos
59.84
Onion
3 nos
84
0.21
Jalapeno Pepper
3 nos
Ground cumin
1 tablespoon
8
Ground Coriander
1 tablespoon
Garlic
6 nos
375.48
1.26
Olive Oil
2 tablespoon
457.74
51.84
Water
1 cup
0
Salt
1 as required
0
1798.32
54
0
Preparation Method
1

Cook the lenTils by bOiling or pressure cooking unTil lenTils are soft. (Pressure cooking is faster.)

2

In a skillet heat the Oil and add Mustard.

3

When Mustard begin to flutter, add Onion, Ginger, Jalapeno Peppers, and Garlic.

4

Saute unTil the Onion and Garlic are golden brown.

5

Add Coriander Seedss and Cumin. Add chopped Tomatos. Saute the mixture well unTil Tomatos are well cooked.

6

Add Water. BOil 6 minutes. Add cooked lenTils, stirring well.

7

Add Salt to taste, stirring well.

8

Add finely chopped Cilantro and remove from heat.

9

Serve hot.