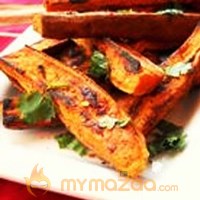 Sweet Potato Fries Recipe
| | |
| --- | --- |
| Preparation Time | |
| Difficulty | Easy |
| Occasion | Bonefire Party, Picnic Recipes, General |
| Recipe Type | Vegetarian, Fry |
| Cuisine | Mexican Cuisine |
Sweet potato contains over twice the amount of vitamin A you need for the day (source: Whole Foods). Trust me, it's easy to eat more than one sweet potato worth of these fries!
Ingredients
Ingredient
Quantity
Calories
Fat
Cholestrol
Sweet Potato
2 nos
46.8
Olive Oil
2 tablespoon
457.74
51.84
Salt
1 as required
0
Sea Salt
1 tablespoon
0
Grated Lime
1.5 teaspoon
3.56
Chilli powder
0.125 teaspoon
0.05
Paprika
0.125 teaspoon
0.74
0.04
Red Pepper Flake
0.125 teaspoon
1.66
0.08
Cilantro
0.25 cup
0.31
510.86
51.96
0
Preparation Method
1

Place the sweet Potato into a large pot and cover with Water.

2

Bring to a bOil over high heat, then reduce heat to medium-low, cover, and simmer unTil tender, about 20 minutes.

3

Drain and allow to steam dry for a minute or two.

4

Allow to cool, then slice each sweet Potato into wedges.

5

Arrange wedges on a baking sheet.

6

Preheat an oven to 400 degrees F (200 degrees C).

7

Brush the sweet Potato wedges with Olive Oil, and lightly season with Salt and Pepper.

8

Combine Sea Salt, lime zest, Chili powder, Paprika, and Red Pepper Flakes in a small bowl.

9

Bake in the preheated oven unTil golden brown on all sides, about 20 minutes.

10

Plate and sprinkle with the seasoning mixture and Cilantro immediately.