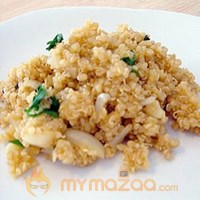 Quinoa Side Dish Recipe
| | |
| --- | --- |
| Preparation Time | |
| Difficulty | Easy |
| Occasion | General |
| Recipe Type | Vegetarian |
| Cuisine | American Cuisine |
Quinoa is so healthy, but I hadn't succeeded yet to find a way to prepare it so it is tasty enough for my crew. Then I saw this recipe for Parmesan Quinoa in Susie Fishbein's cookbook, Kosher by Design: Teens and 20-Somethings. As it turns out, mixing quinoa with Parmesan cheese was the secret to making quinoa a popular dish in my home.
Ingredients
Ingredient
Quantity
Calories
Fat
Cholestrol
Butter
1 tablespoon
238.33
26.96
0.7
Quinoa
1 cup
25.6
128
128
Vegetable Stock
2 cup
153.6
0
0
Garlic
2 teaspoon
16.22
0.06
Parsley
2 tablespoon
5.18
0.12
Salt
1.25 tablespoon
0
Onion
1 nos
28
0.07
Lemon Juice
2 teaspoon
466.93
155.21
128.7
Preparation Method
1

Melt Butter in a saucepan over medium heat. Add the quinoa, and toast, stirring occasionally, unTil lightly browned, about 5 minutes.

2

Stir in broth, and bring to a bOil. Reduce to a simmer, cover, and cook for 15 minutes, or unTil quinoa is tender.

3

In a bowl, toss quinoa together with Garlic, Parsley, Thyme, Salt, and Onion.

4

Sprinkle with Lemon Juice, and serve.