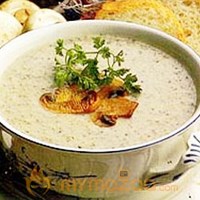 Mushroom Soup Recipe
| | |
| --- | --- |
| Preparation Time | |
| Difficulty | Easy |
| Occasion | General |
| Recipe Type | Soup |
| Cuisine | South Indian |
Mushroom soup is a simple type of soup where a basic roux is thinned with cream or milk and then mushrooms and/or mushroom broth are added. It is well known in North America as a common type of condensed canned soup. Cream of mushroom soup is often used as a base ingredient in casseroles and comfort foods. This use is similar to that of a mushroom flavored gravy.
Ingredients
Ingredient
Quantity
Calories
Fat
Cholestrol
Mushroom
2 cup
40.32
0.58
Vegetable Stock
2 cup
153.6
0
0
Egg
3 nos
232.5
15.9
0.63
Milk
1 cup
101.99
1.98
0.98
Black Pepper
0.125 teaspoon
1
Butter
4 tablespoon
953.32
107.84
2.8
Salt
0.25 teaspoon
0
1482.73
126.3
4.41
Preparation Method
1

Melt the Butter in a pan, add the Mushrooms and cook them for 5 minutes stirring constantly.

2

Add the Chicken or vegetable stock, raise the heat and bring to a bOil.

3

Remove the Mushroom mixture from the heat.

4

Beat 1/2 cup of hot broth with the Egg Yolk unTil the mixture becomes frothy.

5

Gradually pour this mixture into the Mushroom mixture, stirring constantly to prevent the mixture from Curdling.

6

Return the pan to the heat and add the Milk, Salt and Pepper.

7

Reheat uncovered, stirring constantly, but do not let the soup bOil.

8

Serve the Mushroom soup hot.