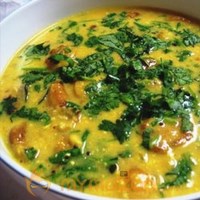 Kadhi Pakoda Recipe
| | |
| --- | --- |
| Preparation Time | |
| Difficulty | Moderately easy |
| Occasion | Diwali |
| Recipe Type | Snacks |
| Cuisine | South Indian |
Kadhi Pakoda is a very popular dish throughout India. Kadhi is a blend of yogurt and besan (gram flour) with besan pakoras. Kadhi is served with plain white rice.
Ingredients
Ingredient
Quantity
Calories
Fat
Cholestrol
Curd
2 cup
298.9
16.18
Gram Flour
200 gram
628
Chili powder
2 teaspoon
3.54
70.72
Turmeric Powder
0.5 teaspoon
1.43
Ghee
200 gram
1846
200
52
Fenugreek Seed
0.5 teaspoon
1.3
0.02
Potato
200 gram
138.6
0.2
Onion
150 gram
60
0.15
Spinach
300 gram
69.9
0.9
Soda
2 teaspoon
1
Coriander Powder
1 tablespoon
17.34
0.16
3066.01
288.33
52
Preparation Method
1

Whisk the Curd in a bowl.

2

Add gram all all purpose flour, Chili powder, Turmeric Powderr powder and Salt and whisk to mix well.

3

Add 1.2-litre Water and whisk again. (To get a kadhi of Butter consistency, instead of Curd use 1.7-litre ButterMilk.)

4

To prepare the pakoda:

5

Mix all the ingredients together, add about 3 tbsp Water and mix well.

6

Heat Oil in a kadai and drop spoonfuls of the batter to make about 20 dumplings.

7

Deep fry over medium heat unTil golden. Remove to an absorbent paper to drain the excess fat.

8

Heat Ghee in a pan, add Fenugreek Seed and stir over medium heat unTil they begin to pop. Add Curd (or ButterMilk) and bring to a bOil, stirring continuously. Lower the heat, cover and simmer, stirring occasionally, unTil of thin sauce consistency.

9

Then add Potato roundels, bring to a bOil, lower the heat and simmer, stirring occasionally, unTil the Potato are cooked (for about six minutes).

10

Add the pakodas and Onion roundels, bring to a bOil, and simmer on low heat, stirring occasionally, but carefully, unTil the kadhi reaches a thick sauce consistency.

11

Remove and adjust the seasoning

12

To prepare the tempering:

13

Heat Ghee in a frying pan, add the Mustard, Cumin Seed and Coriander Seedss seeds. Stir over medium heat unTil they begin to pop. Then add Asafoetida and stir unTil it puffs up. Add whole Red Chili and stir unTil they change colour (bright red). Add Chili powder and stir well. Remove from heat and pour over the kadhi.

14

Remove to a bowl and serve with steamed Rice or khichdi.