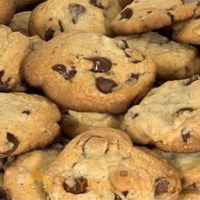 Chocolate Chip Cookies Recipe
| | |
| --- | --- |
| Preparation Time | |
| Difficulty | Moderately easy |
| Occasion | Chirstmas, Birthday Party |
| Recipe Type | Sweets |
| Cuisine | Mexican Cuisine |
Chocolate chip cookie is a drop cookie that originated in the United States and features chocolate chips as its distinguishing ingredient. The traditional recipe combines a dough composed of butter and both brown and white sugar with semi-sweet chocolate chips. Variations include recipes with other types of chocolate or additional ingredients, such as nuts or oatmeal.
Ingredients
Ingredient
Quantity
Calories
Fat
Cholestrol
Rolled Oats
3 tablespoon
121.5
2.43
Milk
1 cup
101.99
1.98
0.98
All purpose flour
2 cup
908.8
Baking Soda
1 teaspoon
0
Salt
1 teaspoon
0
Margarine
1 cup
853.14
94.4
Brown Sugar
1 cup
836
Sugar
0.5 cup
387
Egg
2 nos
155
10.6
0.42
Vanilla Extract
1 teaspoon
25.14
Semisweet Chocolate Chips
1 cup
1891.6
108
5280.17
217.41
1.4
Preparation Method
1

Preheat oven to 350 degrees F (175 degrees C). Soak the Rolled Oats in the Milk for at least ten minutes. Sift together the all all purpose flour, Baking Powder and Salt, set aside. In a medium bowl, Cream together the Margarine, Brown Sugar and Sugar. Stir in the Egg and Vanilla. Add the sifted ingredients, and mix well. Then stir in the oat mixture and Chocolate chips. Drop dough by heaping spoonfuls onto the prepared cookie sheets. Bake for 12 to 15 minutes in the preheated oven, unTil cookies are golden brown. Cool on baking sheets or remove to cool on wire racks.