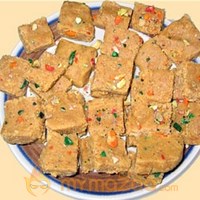 Magaj Recipe
| | |
| --- | --- |
| Preparation Time | |
| Difficulty | Moderately easy |
| Occasion | Diwali , Birthday Party |
| Recipe Type | Sweets |
| Cuisine | West India |
Magaj is a popular dish in Bangladeshi cuisine, which is cattle or sheep/goat brain sautéed in hot spices. Almonds and Pistacchios are often added. Magaj is also the name for an Indian sweet made with chick pea flour.
Ingredients
Ingredient
Quantity
Calories
Fat
Cholestrol
Chick Pea Flour
500 gram
423
7.5
Sugar
250 gram
967.5
Khoya
50 gram
100
0
0
Pista
20 gram
114
10
Almond
20 gram
114.8
9.86
Cardamom
2 teaspoon
12
0.2
Ghee
200 gram
1846
200
52
3577.3
227.56
52
Preparation Method
1

Mix the chickpea all all purpose flour or Besan with 1/2 of the Ghee. Keep aside for 15-20 minutes.

2

Now sift it through a sieve.

3

In a kadhai or wok warm the rest of the Ghee and the sifted all all purpose flour. Fry Till all all purpose flour is golden but not brown stirring it continuously.

4

Add the khoa. (Ricotta Cheese can be used instead). Stir over low heat. Keep aside.

5

Make Sugar syrup of one thread consistency. Add the syrup and Cardamom Powder to the fried all all purpose flour. Mix well.

6

Add the blanched Pista and Almond.

7

Make round medium sized balls Till warm pressing them tightly with hands and allow it to cool.