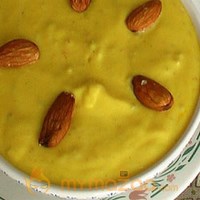 Mango Shrikhand Recipe
| | |
| --- | --- |
| Preparation Time | |
| Difficulty | Easy |
| Occasion | Diwali , Ugadi |
| Recipe Type | Appetizers |
| Cuisine | South Indian |
Mango Shrikhand is a semi soft, sweetish sour, whole milk product prepared from lactic fermented curd. The curd (dahi) is partially strained through a cloth to remove the whey and thus produce a solid mass called chakka (the basic ingredient for Shrikhand). This chakka is mixed with the required amount of sugar, etc., to yield Shrikhand.
Ingredients
Ingredient
Quantity
Calories
Fat
Cholestrol
Mango
0.25 cup
26.73
0.12
Curd
0.5 kilogram
305
16.5
Sugar
300 gram
1161
Milk
1 tablespoon
12.24
0.24
0.12
Almond
0.5 teaspoon
13.2
1.14
Cardamom Powder
0.5 teaspoon
3.8
0.01
Saffron Strands
1 teaspoon
7.07
0.1
1529.04
18.11
0.12
Preparation Method
1

Take a muslin cloth and tie Curd in it for 6-7 hours.

2

Transfer the Curd into a bowl. Add Sugar and mix well.

3

Leave aside for about half an hour to dissolve the Sugar.

4

Rub the strands of Saffron into Milk Till dissolved. Leave aside.

5

Beat the Curds well.

6

Strain through a strong strainer, pressing with the help of a spatula.

7

Add Mango Pulp, Cardamom Powder, Saffron and half of crushed nuts.

8

Pour it into a serving bowl and top with remaining crushed nuts.

9

Chill for an hour or two before serving.