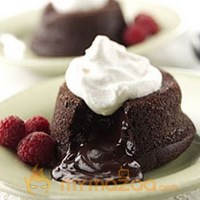 Molten Lava Cake Recipe
| | |
| --- | --- |
| Preparation Time | |
| Difficulty | Easy |
| Occasion | Birthday Party |
| Recipe Type | Cake |
| Cuisine | South Indian |
Molten Lava Cak is a popular dessert that combines the elements of a flourless chocolate cake (sometimes called a chocolate decadence cake) and a soufflé. Some other names used are chocolate fondant pudding, chocolate moelleux and chocolate lava cake.
Ingredients
Ingredient
Quantity
Calories
Fat
Cholestrol
Semisweet Chocolate Chips
115 gram
543.84
31.05
Butter
115 gram
824.55
93.27
2.42
Egg
2 nos
155
10.6
0.42
Sugar
0.33 cup
255.42
All purpose flour
0.25 cup
113.6
Butter
1 few
35.85
4.06
0.11
1928.26
138.98
2.95
Preparation Method
1

In a double bOiler, melt Chocolate.

2

In a medium mixing bowl, beat Egg and Sugar unTil light and fluffy.

3

Once Chocolate is melted, remove pan from heat and add in Butter. Mix unTil the Butter melts fully.

4

Add Chocolate/Butter mixture into the Egg, add all-purpose all all purpose flour and mix unTil well incorporated.

5

Butter bottom and sides of ramekins (small glass/porcelain bowls) and pour in mixture about 3/4 way full.

6

Place ramekins on a baking tray and bake at 350 degrees Fahrenheit (180 C) for 10 – 15 minutes. Shorter for gooey (molten) inside, longer for stiff inside.

7

Serve hot with Vanilla Ice Cream.