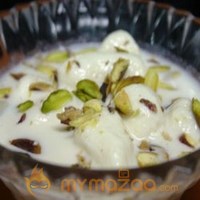 Channa Dal Payasam Recipe
| | |
| --- | --- |
| Preparation Time | |
| Difficulty | Easy |
| Occasion | Diwali |
| Recipe Type | Sweets |
| Cuisine | South Indian |
Quite an interesting combination of chana dal paste with milk in the chana dal kheer makes it a delicious dessert item. Soak almonds and cashewnuts and add the paste to the kheer to add taste and richness to this special payasam or kheer recipe.
Ingredients
Ingredient
Quantity
Calories
Fat
Cholestrol
Chickpea Flour
0.5 cup
193.45
3.35
Coconut Milk
1 cup
102.72
999.84
Ghee
4 tablespoon
992.4
107.52
27.96
Jaggery
1 cup
250
Cardamom
5 nos
1320
22
Coconut Grated
2 tablespoon
54.86
0.6
Cashew Nut
5 nos
82.65
6.6
2996.08
1139.91
27.96
Preparation Method
1

Wash and soak the gram.

2

Melt a part of the Ghee in a pan , add the Coconut Grated and fry Till golden brown over a medium flame drain, remove and keep aside.

3

In the same Ghee add the Cashew Nut nuts and over a low flame fry Till golden brown and keep aside.

4

Extract Coconut Milk by soaking the Coconut Grated in about half a cup of Hot Water for 10 minutes

5

And then pass the mixture through a strainer.

6

BOil the gram in a sauteuse with just sufficient Water to cook the gram.

7

When the gram is cooked add the Jaggery and the Coconut Milk.

8

Cook Till the mixture is thick stirring once in a while so that it does not get burnt.(make sure the mixture does not become very thick, it should be of pouring consistency).

9

Add the remaining Ghee and the Cardamom. mix thoroughly.

10

Serve garnished with the fried Coconut Grated and the Cashew Nut nuts.