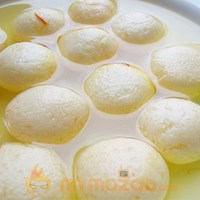 Rasogolla Recipe
| | |
| --- | --- |
| Preparation Time | |
| Difficulty | Moderately easy |
| Occasion | Diwali , Chirstmas, Birthday Party |
| Recipe Type | Sweets |
| Cuisine | East Indian |
rasgulla originated in Odisha, where it is also known by its original name, Khira mōhana. It has been a traditional Oriya dish for centuries. People throughout the state consider the rasgullas prepared by the Kar brothers, the descendants of a local confectioner, Bikalananda Kar, in the town of Salepur, near Cuttack to be the best. Today this rasgulla famously named Bikali Kar Rasgulla is sold all over Odisha Another variant of this dish that is made in the town of Pahal, located between the cities of Bhubaneswar and Cuttack, is also very popular locally
Ingredients
Ingredient
Quantity
Calories
Fat
Cholestrol
Milk
1 litre
418
8.1
4
Sugar
300 gram
1161
Lemon Juice
5 milliliter
3.5
Rose Essence
3 drop
Water
1 litre
0
1582.5
8.1
4
Preparation Method
1

For the preparation, heat the Sugar and the Water in a deep pan and bring to a bOil.

2

BOil the Milk. Add the Lemon Juice and Curdle the Milk. Remove from fire and strain through a muslin cloth.

3

Hold under running Water or dip in a bowl of cold Water for 1 minute. Squeeze out the excess Water.

4

Knead Till very smooth. Make balls of desired size.

5

Now place the Cheese balls in bOiling syrup and cook for 15 minutes.

6

Switch off the flame and let the dumplings stand in the liquid unTil cool.

7

Chill for a minimum of 2 hours.

8

Mix in the essence before serving.