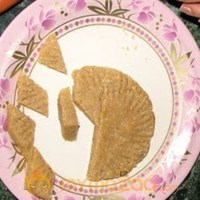 Channa Doss Recipe
| | |
| --- | --- |
| Preparation Time | |
| Difficulty | Moderately easy |
| Occasion | Picnic Recipes |
| Recipe Type | Appetizers |
| Cuisine | West India |
Channa Doss or Doce is a Goan sweet that requires very few ingredients but lot of patience and tremendous amount of stirring. Its fairly easy to make and the end result is one of the simplist sweets that still ends up getting consumed too soon. Prior to starting let we warn you that its a tough one, family support is a boon when it comes to stirring. Enjoy this Christmas this with some Chonache Doss.
Ingredients
Ingredient
Quantity
Calories
Fat
Cholestrol
Gram Dal
1 cup
703.5
3.57
Coconut Grated
1 cup
442.84
4.8
Sugar
1 cup
774
Cardamom
6 nos
1584
26.4
Ghee
3 tablespoon
744.3
80.64
20.97
Salt
1 as required
0
4248.64
115.41
20.97
Preparation Method
1

Soak and Cook the Gram Dal, then Grind the Gram and Coconut.

2

Once thats done, add 2 tablespoon of Ghee to the vessel and heat it up.

3

Add the ground Channa Dal and Coconut first and start mixing them.

4

Once its mixed properly add Sugar.Blend the ingredients.

5

Now the stirring starts to mix all the three ingredients properly into a thick lump.

6

After stirring for a few minutes it turns slightly brown. Keep stirring.When the mix begins to thicken add a pinch of Salt to it..

7

Continue to blend, and you will notice the difference in the mix.If it gets difficult to stir, it means you are doing a good job and your Doss will turn out to be perfect.

8

That also means you have to eep stirring. Add crushed Cardamom to the mixture and stir again.The mixture collects together, so 2 tablespoons of Ghee makes it a bit easier to stir.

9

Keep the Doss mixture on the flame for a while, and don't forget to stir it regularly.

10

After 25-30 minutes, stirring would become extremely difficult as the mixture solidifies. Stir some more and then its time to remove the doss off the fire.

11

Flatten the mixture with a spatula on a greased plate.

12

Cut diamond shape pieces and Channa Doss is ready.