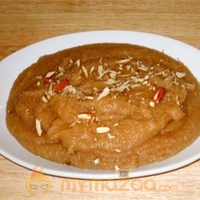 Suji Halwa Recipe
| | |
| --- | --- |
| Preparation Time | |
| Difficulty | Easy |
| Occasion | Bonefire Party |
| Recipe Type | Sweets |
| Cuisine | South Indian |
Sooji Halwa is a very popular sweet dish all over India and is made on religious occasions, as parsad (offering to God). After prayer Halwa is served to devotees as a blessing.
Ingredients
Ingredient
Quantity
Calories
Fat
Cholestrol
Wheat Flour
0.5 cup
225
124.95
Ghee
3 tablespoon
744.3
80.64
20.97
Cashew Nut
1 tablespoon
82.65
6.6
Raisins
1 tablespoon
14.95
Almond
1 tablespoon
80.36
6.9
Sugar
0.5 cup
387
Water
1.25 cup
0
Saffron
1 few
9.9
0.14
Cardamom Powder
0.25 teaspoon
1.9
0.01
1546.06
219.24
20.97
Preparation Method
1

Heat a pan on medium heat and pour in the Ghee.

2

Allow the Ghee to heat up and then add in the Cashew Nut, raisin and the Almond.

3

Fry them for about 30 seconds Till the raisin plum up.

4

Add in the Suji and cook Till it releases an aroma and has a wonderful light-golden color.

5

Meanwhile crush the Saffron with a little bit of Sugar in a mortar and pestel.

6

Continously stir the Suji Till done.

7

Add Sugar and mix in well.

8

Heat up the Water in the microwave to speed up process and add to the Suji.

9

Lower the heat, add in the Saffron and keep stirring Till it reaches the desired consistency.

10

Lastly, add in the Cardamom Powder, mix well, cover and allow it to stand for a couple of minutes.