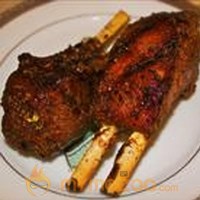 Grilled Lamb with Brown Sugar Glaze Recipe
| | |
| --- | --- |
| Preparation Time | |
| Difficulty | Moderately easy |
| Occasion | Dinner Party, Chirstmas, Birthday Party |
| Cuisine | Mexican Cuisine |
Grilled Lamb with Brown Sugar Glaze. "A delicately sweet brown sugar rub will make these some of the tastiest chops. Lamb chops taste great when seasoned with a savory rub and baked in a coating of sweet and sour sauce.
Ingredients
Ingredient
Quantity
Calories
Fat
Cholestrol
Brown Sugar
0.25 cup
209
Ginger
1 teaspoon
10.92
Dried Tarragon
2 teaspoon
26.66
Ground Cinnamon
1 teaspoon
6
Ground Black Pepper
1 teaspoon
10.2
Garlic Powder
1 teaspoon
1.49
0.03
Salt
0.5 teaspoon
0
Chops
4 nos
448
21.68
1.4
712.27
21.71
1.4
Preparation Method
1

In a medium bowl, mix Brown Sugar, Ginger, tarragon, Cinnamon, Pepper, Garlic Powder, and Salt.

2

Rub lamb Chops with the seasonings, and place on a plate.

3

Cover, and refrigerate for 1 hour.

4

Preheat grill for high heat.

5

Brush grill grate lightly with Oil, and arrange lamb Chops on grill.

6

Cook 5 minutes on each side, or to desired doneness.