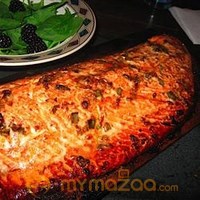 Cedar Planked Salmon Recipe
| | |
| --- | --- |
| Preparation Time | |
| Difficulty | Moderately easy |
| Occasion | Dinner Party |
| Recipe Type | Dinner |
| Cuisine | Japanese cuisine |
Where this recipe calls for lemon zest and rosemary, the native Coast Salish Indians on Vancouver Island would use grand-fir needles. Either way, the salmon takes on a light, smoky woodiness from grilling on a cedar plank, for a lovely pairing of earth and ocean.
Ingredients
Ingredient
Quantity
Calories
Fat
Cholestrol
Untreated Cedar Planks
3 nos
338.64
9.84
Vegetable Oil
0.33 cup
654.71
73.92
Rice Vinegar
0.5 tablespoon
Sesame Oil
1 teaspoon
76.56
8.7
Soy Sauce
0.33 cup
43.76
0.03
Green Onion
0.25 cup
8
0.05
Ginger
1 tablespoon
33.03
Garlic
1 teaspoon
8.11
0.03
Smoked salmon
2 pound
1055.96
39
2218.77
131.57
0
Preparation Method
1

Soak the cedar planks for at least 1 hour in Warm Water.

2

Soak longer if you have time.

3

In a shallow dish, stir together the Vegetable Oil, Rice Vinegar, Sesame Oil, Soy Sauce, Green Onion, Ginger, and Garlic.

4

Place the salmon fillets in the marinade and turn to coat.

5

Cover and marinate for at least 15 minutes, or up to one hour.

6

Preheat an outdoor grill for medium heat. Place the planks on the grate.

7

The boards are ready when they start to smoke and crackle just a little.

8

Place the salmon fillets onto the planks and discard the marinade.

9

Cover, and grill for about 20 minutes. Fish is done when you can flake it with a fork.

10

It will continue to cook after you remove it from the grill.