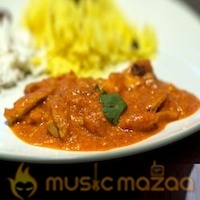 Butter Chicken Recipe
| | |
| --- | --- |
| Preparation Time | |
| Difficulty | Moderately easy |
| Occasion | Dinner Party, Bonefire Party, Birthday Party |
| Recipe Type | Lunch, Dinner |
| Cuisine | South Indian |
Butter chicken or murgh makhani is a classic Punjab recipe, that was probably developed during the Mughal Empire. There are Indian, Pakistani, Nepali and Tibetan versions of the dish as well as more modern Anglo-Indian variations. A 20th Century recipe for butter chicken (by Madhur Jaffrey) credits the restaurant Moti Mahal in Delhi with the recipe. This has unfortunately been misconstrued to mean that the recipe originated in the kitchens of Moti Mahal. This is not the case. Only a popular version of the dish arose there, the origins of the dish go back centuries to ancient Parsi recipes.
Ingredients
Ingredient
Quantity
Calories
Fat
Cholestrol
Butter
1 cup
1627.59
184.1
4.77
Onion
1 nos
28
0.07
Garlic
1 tablespoon
24.32
0.08
Tomato Sauce
15 ounce
138.6
Heavy Cream
3 cup
1248.75
123.75
3.75
Salt
2 teaspoon
0
Cayenne pepper
1 teaspoon
18.77
Garam Masala
1 teaspoon
13.3
Boneless Chicken
1.5 pound
722.51
8.51
Vegetable Oil
2 tablespoon
476.16
53.76
Tandoori Masala
2 tablespoon
4298
370.27
8.52
Preparation Method
1

Preheat oven to 375 degrees F (190 degrees C).

2

Melt a few tablespoons of Butter in a skillet over medium heat.

3

Stir in Onion and Garlic, and cook slowly unTil the Onion caramelizes to a dark brown, about 15 minutes.

4

Meanwhile melt the remaining Butter in a saucepan over medium-high heat along with the Tomato Sauce, Heavy Cream, Salt, Cayenne pepper Pepper, and Garam Masala. Bring to a simmer, then reduce heat to medium-low; cover, and simmer for 30 minutes, stirring occasionally.

5

Then stir in caramelized Onion.

6

While the sauce is simmering, toss cubed Chicken breast with Vegetable Oil unTil coated, then season with Tandoori Masala and spread out onto a baking sheet.

7

Bake Chicken in preheated oven unTil no longer pink in the center, about 12 minutes.

8

Once done, add the Chicken to the sauce and simmer for 5 minutes before serving.