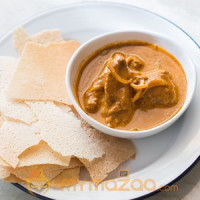 Mangalorean Kori Rotti Recipe
| | |
| --- | --- |
| Preparation Time | |
| Difficulty | Moderately easy |
| Occasion | Dinner Party, Bonefire Party |
| Recipe Type | Curry |
| Cuisine | North East India |
Kori Rotti is a Mangalorean speciality. Kori means chicken, and rottis, in this case, are not the traditional chapattis or rotis. They are a special kind of bread, which are made of rice paste and then dried, so quite hard and crispy and are made into sheets that are then broken into pieces. These rottis, when soaked by the chicken curry, absorb it and turn quite soft. A real taste and texture sensation!
Ingredients
Ingredient
Quantity
Calories
Fat
Cholestrol
Coconut
300 gram
5.25
0.5
Hot Water
2 cup
Chicken
1000 gram
1.65
0.04
0.01
Onion
1
Red Chili
20 nos
144
1.4
Coriander Seeds
2 tablespoon
72
4.32
Cumin Seed
1 teaspoon
7.6
0.42
Peppercorn
10 gram
15
Ghee
2 teaspoon
165.4
17.92
4.66
Turmeric Powder
1.4 teaspoon
4
Garlic
10 nos
625.8
2.1
Butter
1 tablespoon
238.33
26.96
0.7
Lemon Juice
2 tablespoon
Salt
1279.03
53.66
5.37
Preparation Method
1

Grate 1½ coconuts and grind finely with 2 cups hot water. Squeeze out thick coconut milk and keep aside. Add 3 cups of hot water to the residue and take out thin milk.

2

Roast ½ grated coconut till light brown. Fry ingredients from 4 to 8 in a little ghee. Fry the ½ chopped onion till light brown in ghee. Grind all these together with turmeric powder and garlic flakes with a little of the thin coconut milk till very fine.

3

Remove the masala, wash the stone with 2 to 3 cups of water and mix it with the masala, remaining thin coconut milk, cleaned and cut chicken. 1 chopped onion, 1 tbsp. Butter, salt to taste and boil in a cooker for 5 minutes under pressure. Remove and add thick coconut milk, lemon juice and bring to a boil, then simmer for a few minutes.

4

Keep 2 tsp. Ghee in a flat vessel on the fire. Add chopped onion and fry till brown. Add garam masala powder (lavang, elaichi, and dalchini) and pour the curry over the seasoning, cover and remove from fire. Serve with Roti, Idli, Neer Dosa, apam or Dosa Rice.

5

Usually served with Roti – a crisp rice flakes preparation which could be bought in any Mangalore store, in any big city of India or abroad. Roti is a traditional dish of the Bunts served at every wedding and party. It should be soaked in curry and eaten.