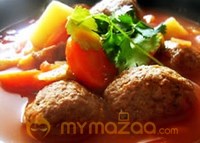 Albondigas Recipe
| | |
| --- | --- |
| Preparation Time | |
| Difficulty | Moderately easy |
| Occasion | Chirstmas, Bonefire Party, Birthday Party, General |
| Recipe Type | Lunch, Snacks |
| Cuisine | Mexican Cuisine |
Albondigas are meatballs, often used in a soup, known to many as "Mexican soul food." Though we consider albondigas soup (or sopa de albondigas) Mexican food, history follows a line that dates back to the sixth Century, where the Islamic influence dominated the region of Southwestern Europe. Then in the 13th Century, the Spanish King Ferdinand and Queen Isabella conquered the region which had been occupied by the Muslims. Many of the culinary traditions were integrated into the Spanish community. From there, albondigas made its way to Mexico by way of the conquistadors, where it has remained and flourished into a cultural favorite.
Ingredients
Ingredient
Quantity
Calories
Fat
Cholestrol
Water
1 quart
0
Carrot
4 nos
97.6
0.56
Potato
2 nos
295.22
0.42
Onion
1 nos
28
0.07
Salsa Sauce
1.5 cup
900
0
0
Beef Bouillon Cubes
2 nos
14.28
Ground Beef
1.5 pound
952.55
47.63
3.41
Bread Crumbs
0.33 cup
2.38
172.47
Milk
0.33 cup
33.66
0.65
0.32
2323.69
221.8
3.73
Preparation Method
1

In a large stock pot, bring Water, Carrot, Potato, Onion, salsa sauce, and bouillon cube to a bOil.

2

Reduce to a medium simmer, stirring occasionally, approximately 10 minutes.

3

Mix the beef, Breadcrumbs, and Milk together in a bowl.

4

Form into 1-inch meatballs, and drop into bOiling broth.

5

Once soup returns to a bOil, reduce heat to medium-low.

6

Cover and cook 20 minutes, or unTil meatballs are no longer pink in center and vegetables are tender.

7

Serve with sprinkled Cilantro for garnish.