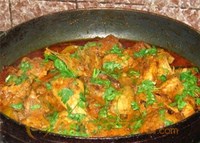 Mughlai Chicken Recipe
| | |
| --- | --- |
| Preparation Time | |
| Difficulty | Moderately easy |
| Occasion | Dinner Party, General, Ugadi |
| Recipe Type | Curry, Dinner |
| Cuisine | South Indian |
This is a dish for special occasions - not for any other reason except that it is rich! Its mild, thick, creamy gravy is inspired by the food of Central Asia and came to India during the rule of the famous Mughal dynasty. Cook and eat it and you will feel like royalty yourself!
Ingredients
Ingredient
Quantity
Calories
Fat
Cholestrol
Chicken
1 kilogram
1650
35
8.5
Garlic
6 nos
375.48
1.26
Cinnamon
1 nos
26
Red Chili
8 nos
57.6
0.56
Onion
4 nos
112
0.28
Ginger
1 nos
76.59
Cardamom
4 nos
1056
17.6
Cumin Seed
1 teaspoon
7.6
0.42
Saffron
0.5 teaspoon
3.47
0.05
Hot Water
6 cup
Lemon Juice
1 teaspoon
Oil
0.5 cup
1098
154.33
0.01
Salt
1 as required
4462.74
209.5
8.51
Preparation Method
1

Cut the Chicken pieces, wash, apply Salt and keep aside.

2

Chop the Onion finely and grind all the masala to a fine paste.

3

Heat Oil and fry the Onion, then add the ground masala and fry over low heat Till the Oil separates.

4

Then add the Chicken pieces and fry for a while unTil the Chicken is well mixed with the masala.

5

Add 6 cups of Hot Water and let it simmer unTil the Chicken is tender, then add the Saffron soaked in Lemon Juice.

6

Simmer for a few more minutes and serve hot garnished with fried Potato, green Green Peas and hard bOiled Egg.