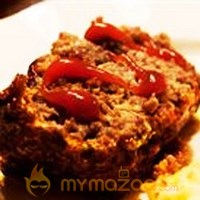 The Best Meatloaf Recipe
| | |
| --- | --- |
| Preparation Time | |
| Difficulty | Moderately easy |
| Occasion | Bonefire Party, General |
| Recipe Type | Lunch, Dinner |
| Cuisine | Japanese cuisine |
best meatloaf recipes around, including recipes for turkey meatloaf from the experts at Food Network.food processor bowl, combine croutons, black pepper, cayenne pepper, chili powder, and thyme. Pulse until the mixture is of a fine texture. Place this mixture into a large bowl. Combine the onion, carrot, garlic, and red pepper in the food processor bowl. Pulse until the mixture is finely chopped, but not pureed. Combine the vegetable mixture, ground sirloin, and ground chuck with the bread crumb mixture.
Ingredients
Ingredient
Quantity
Calories
Fat
Cholestrol
Ground Beef
1.5 pound
952.55
47.63
3.41
Salt
1.25 teaspoon
0
Egg
1 nos
77.5
5.3
0.21
Black Pepper
1 teaspoon
0
Bread Crumbs
1 cup
7.2
522.65
Milk
0.5 cup
51
0.99
0.49
Steak Sauce
0.33 cup
0.5
Onion
1 nos
28
0.07
Green Bell Pepper
0.5 cup
15.12
1131.87
576.64
4.11
Preparation Method
1

Preheat oven to 350 degrees F (175 degrees C).

2

Lightly grease an 8 1/2 x 4 1/2 inch loaf pan.

3

In a mixing bowl, combine the Ground Beef, Salt, Egg, Black Pepper and Bread Crumbs.

4

Pour in the Milk, 3 tablespoons of the Steak Sauce, Onion and Green Bell Pepper.

5

Place the mixture into the prepared loaf pan and shape into a loaf. Brush the top with the remaining Steak Sauce.

6

Bake in the preheated oven for 1 hour or unTil done.

7

Allow to stand 5 minutes before slicing.