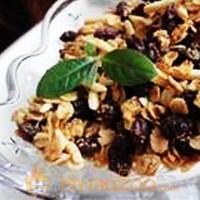 Almond Maple Granola Recipe
| | |
| --- | --- |
| Preparation Time | |
| Difficulty | Moderately easy |
| Occasion | Dinner Party, Party |
| Recipe Type | Lunch |
| Cuisine | Mexican Cuisine |
This granola is good and crunchy with lots of sweet flavor, thanks to the pure maple syrup and dark brown sugar. It uses a lot less oil than some granola recipes. Can be made 1 week ahead.
Ingredients
Ingredient
Quantity
Calories
Fat
Cholestrol
Rolled Oats
3 cup
495
9.9
Blanched Slivered Almonds
1 cup
613.98
54.11
Wheat Germ
0.25 cup
61.98
1.51
Coconut Flakes
396 gram
2554.6
255.42
Sunflower Seeds
0.33 cup
271.77
21.12
Maple Syrup
6 tablespoon
312.6
Brown Sugar
6 tablespoon
601.92
Vegetable Oil
0.25 cup
495.99
56
Warm Water
2 tablespoon
0
Salt
0.5 teaspoon
0
Raisins
1 cup
448.5
5856.34
398.06
0
Preparation Method
1

Preheat the oven to 250 degrees F (120 degrees C). Lightly grease a cookie sheet with sides, or a large cake pan with cooking spray.

2

In a large bowl, toss together the oats, Almond, Wheat Germ, Coconut, and Sunflower Seeds. In a separate bowl, whisk together the Maple Syrup, Brown Sugar, Oil, Water and Salt. Pour the liquid over the oat and nut mixture, and stir unTil evenly coated.

3

Spread out on the prepared cookie sheet. If you want some chunky bits, squeeze some small handfuls into little clumps.

4

Bake for 1 hour and 15 minutes in the preheated oven, stirring occasionally unTil evenly toasted. Mix in raisin. Cool, and store in an airtight container at room temperature.