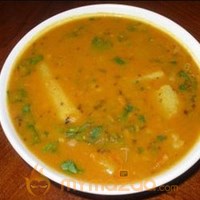 Sambar Recipe
| | |
| --- | --- |
| Preparation Time | |
| Difficulty | Moderately easy |
| Occasion | Dinner Party, General, Party |
| Recipe Type | Breakfast, Lunch |
| Cuisine | South Indian |
Sambar is a vegetable stew or chowder based on a broth made with tamarind and pigeon peas and is very popular in the cooking of southern regions of India, especially in Tamil Nadu, Kerala, Karnataka and Andhra Pradesh. Each state in South India prepares it with a typical variation, adapted to its taste and environment.
Ingredients
Ingredient
Quantity
Calories
Fat
Cholestrol
Toor Dal
1 cup
8448
0
0
Coconut
0.25 cup
70
6.7
Green Bell Pepper
1 nos
8.32
Onion
1 nos
28
0.07
Tomato
1 nos
14.96
Mustard seed
1 teaspoon
46.9
0.69
Turmeric Powder
1 teaspoon
2.86
Asafoetida
1 pinch
2
0.01
Channa Dal
2 teaspoon
57.6
0.96
Coriander Powder
3 teaspoon
17.34
0.15
Turmeric Powder
1 pinch
1
Coriander Leaves
1 few
0.75
Salt
3 teaspoon
0
8697.73
8.58
0
Preparation Method
1

Wash toor dal and bOil it with 3 cups of Water.

2

Fry chana dal, Asafoetida powder, Coriander Seeds and Red Chili for few minutes.

3

Add Coconut Grated and fry again.

4

Grind the mixture with sufficient Water.

5

Heat Oil in a frying pan and fry Green Bell Peppers.

6

BOil vegetables, Tomatos, Tamarind Paste, Turmeric Powderr and Salt in Water.

7

Add to it the mixture of third step and cook again for 5 minutes.

8

Add bOiled dal to it and again bOil it.

9

Meanwhile fry the Mustard and Onion.

10

Add the above contents along with Coriander Seedss leaves to the mixture and mix well.

11

Sambar is ready to serve.