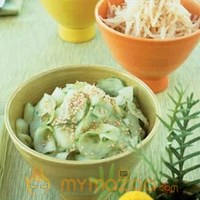 Cucumber Salad Recipe
| | |
| --- | --- |
| Preparation Time | |
| Difficulty | Easy |
| Occasion | Dinner Party, Birthday Party |
| Recipe Type | Salad |
| Cuisine | Japanese cuisine |
Cucumber salad. For a pretty salad, peel only half of each cucumber, leaving strips of skin on each. Don't make the vinegar solution first and then chop the cucumber because it's important that the vinegar solution be hot to ensure proper flavoring.
Ingredients
Ingredient
Quantity
Calories
Fat
Cholestrol
Cucumber
5 nos
2.3
Lemon Juice
0.5 cup
14
Sugar
0.5 cup
387
Vinegar
1 tablespoon
3
Sesame Seeds
0.75 tablespoon
38.68
Salt
2 teaspoon
0
444.98
0
0
Preparation Method
1

Peel the Cucumber and slice thinly.

2

Put them in a bowl, add the Salt, mix well with the hand and keep aside for 45 minutes.

3

Mix the Lemon Juice, Sugar and White Vinegar.

4

Then sqeeze out as much Water you can from Salted Cucumbers.

5

Now add the Lemon Juice mixture to the Cucumbers.

6

Grind the toasted Sesame Seedss and stir into salads.

7

Serve cold.