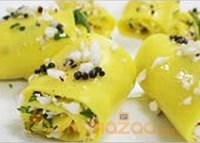 Khandvi Recipe
| | |
| --- | --- |
| Preparation Time | |
| Difficulty | Easy |
| Occasion | General, Party |
| Recipe Type | Breakfast, Snacks |
| Cuisine | West India |
Khandvi is a popular snack amongst gujaratis, especially the kids! nobody can hide their love for this delicious savoury made of gram flour and curds, tempered with mustard seeds. At the same time, none can deny that it is a difficult item to prepare! be patient, and remember to cook the paste slowly and completely till thick. Also, take care to roll the khandvi lightly; and temper well.
Ingredients
Ingredient
Quantity
Calories
Fat
Cholestrol
Chick Pea Flour
0.5 cup
42.3
0.75
Yogurt
0.5 cup
0
0
0
Ginger Paste
0.5 teaspoon
0.4
Green Chilli Paste
0.5 teaspoon
11.53
0.58
Chilli powder
0.5 teaspoon
0.2
Asafoetida
0.125 teaspoon
0.13
0
0
Turmeric Powder
0.125 teaspoon
0.36
Mustard
0.5 teaspoon
3.36
0.2
Sabut Lal Mirch
2 nos
4
Oil
2 teaspoon
161.28
22.66
0
Salt
1 teaspoon
0
Water
1.5 cup
0
223.56
24.19
0
Preparation Method
1

Mix Besan, Ginger, green Chilies, Red Pepper, Salt, heeng and Turmeric Powderr into a smooth paste with some Water Till no lumps are left.

2

Add the rest of the Water and mix well.

3

Bring to a bOil, stirring all the time (to avoid scorcAsafoetida powder).

4

Keep cooking and stirring Till you reach a paste like consistency.

5

Spread a tsp of the batter on to an ungreased surface and cool, it should come off clean.

6

With a rubber spatula spread onto an ungreased surface, as thin as possible and leave to cool.

7

Heat Oil and add the sarson, kadhi patta and Sabut Lal Mirch.

8

Stir a few times and spread over the layer. Pick up the lal mirch and keep aside.

9

Cut layer into strips and roll each strip like a scroll, firmly.

10

Arrange on to a serving dish and garnish with Coriander Seedss, Coconut and Peppers and serve.