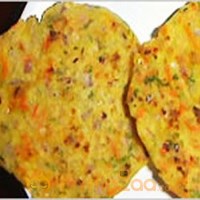 Akki Roti Recipe
| | |
| --- | --- |
| Preparation Time | |
| Difficulty | Easy |
| Occasion | General, Party |
| Recipe Type | Breakfast, Fry |
| Cuisine | South Indian |
Akki Rotti is a rice-based breakfast item unique to the state of Karnataka, India. Akki-Rotti means rice-pancake in the native language, Kannada. It is made of rice flour which is mixed with salt and water and kneaded well to make a soft dough. Sliced onions and carrots, chopped coriander, cumin seeds and sesame seeds can also be added while kneading the dough. Oil is spread over a griddle (tava) or wok and a small amount of the dough is neatly spread over it to resemble a thin pancake (rotti). A small amount of oil is spread over it and the griddle is placed over heat till the rotti turns golden brown. Akki Rotti is served hot and is eaten along with chutney. A dash of butter or ghee with Akki Rotti is also preferred. Another way of making Akki Rotti is to spread the dough over a plantain leaf and then cook it over the griddle with the plantain leaf on the top.
Ingredients
Ingredient
Quantity
Calories
Fat
Cholestrol
Rice Flour
2 cup
1137.6
3.16
Onion
0.5 cup
32
0.08
Green Chillies
4 nos
14.4
0
0
Coconut Grated
0.5 cup
221.42
2.4
Coriander Leaves
2 tablespoon
0.36
Cumin Seed
1 teaspoon
7.6
0.42
Asafoetida
0.5 teaspoon
0.51
0.01
0
Turmeric Powder
0.5 teaspoon
1.43
Chili powder
1 teaspoon
1.77
35.36
Oil
1 as required
90
12.65
0
Salt
1 as required
0
1507.09
54.08
0
Preparation Method
1

Mix all the ingredients with little Oil in Warm Water. Knead well to make soft dough.

2

Spread some Oil on the hand and take a Lemon sized ball of the dough and pat it to thick rotti.

3

Heat a pan and lace the prepared rotti on it.

4

Make 3-4 holes in the rottis and pour few drops of Oil in each hole. Cook well on both sides Till golden brown. Repeat the same with the remaining dough.

5

Ragi Rotti can be made with the same procedure by replacing Rice all all purpose flour with ragi all all purpose flour.

6

Grated vegetables like Carrot and Cabbage can also be add while making the dough.