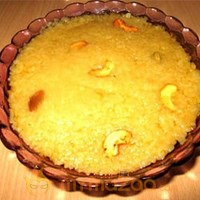 Sweet Pongal Recipe
| | |
| --- | --- |
| Preparation Time | |
| Difficulty | Easy |
| Occasion | Diwali , Pongal |
| Recipe Type | Breakfast, Sweet |
| Cuisine | South Indian |
Pongal festival is to celebrate the harvest festival. It is a festival that is spread over four days. Pongal in tamil means something that is overflowing. The act of boiling over of milk in the clay pot is considered to denote future prosperity for the family. Made with rice, lentils and jaggery makes it healthy and delicious. Go ahead and savor it as a snack or as a sweet along with your meal.
Ingredients
Ingredient
Quantity
Calories
Fat
Cholestrol
Rice
1 cup
730
1.32
Green Gram
0.33 cup
197.6
Water
5 cup
0
Cashew Nut
1 tablespoon
82.65
6.6
Ghee
0.25 cup
516.88
56
14.56
Raisins
1 tablespoon
14.95
Cardamom Powder
0.25 teaspoon
1.9
0.01
1543.98
63.93
14.56
Preparation Method
1

Roast Gram Dal in a pan Till it turns light brown.

2

Wash roasted dal along with Rice.

3

Put it into a pressure cooker with 4-1/2 cups of Water.

4

Cook for about 10 minutes.

5

Completely dissolve Jaggery in half cup of Water in a shallow pan.

6

Remove the dirt by straining it and heat once again unTil you achieve one string consistency.

7

Now mix Cooked rice-dal mixture into it and keep on a medium flame for few minutes. Remove the mixture from the flame.

8

Fry Cashew Nutnuts and raisin separately in Ghee. Mix it to the prepared pongal and add Cardamom Powder.

9

Sweet Pongal is ready to serve.