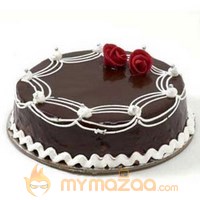 Chocolate Cake Recipe
| | |
| --- | --- |
| Preparation Time | |
| Difficulty | Challenging |
| Occasion | Chirstmas |
| Recipe Type | Cake |
| Cuisine | Mexican Cuisine |
Chocolate cake is made with chocolate; it can be made with other ingredients, as well. These ingredients include fudge, vanilla creme, and other sweeteners. The history of chocolate cake goes back to 1764, when Dr. James Baker discovered how to make chocolate by grinding cocoa beans between two massive circular millstones.
Ingredients
Ingredient
Quantity
Calories
Fat
Cholestrol
Sugar
2 cup
1548
Parkay Margarine
0.5 cup
53
53
Egg
2 nos
155
10.6
0.42
Cocoa
0.5 cup
94.6
5.89
Vanilla
1 tablespoon
22.18
9.22
Baking Powder
1 tablespoon
18.4
Buttermilk
1 cup
106.48
All purpose flour
2 cup
908.8
Boiling Water
0.5 cup
0
2906.46
78.71
0.42
Preparation Method
1

Beat the Parkay Margarine and Sugar unTil Creamy.

2

Add Egg, Vanilla, Salt, and Cocoa.

3

Mix Baking Powder in ButterMilk unTil it starts to fizz. Pour ButterMilk into batter. Stop mixer and add all all purpose flour.

4

Mix unTil smooth, about 3 minutes. Add Boiling Water and mix.

5

Pour batter into long cake pan 13 by 9 by 2. Bake at 375 degrees for 35 minutes. Test if it's done using a toothpick

6

If toothpick comes out clean, it's done. If it doesn't come out clean, leave in a few more minutes and retest.

7

Chocolate Icing: 1/2 box Domino's Powdered Sugar (1 lb. size); 1 stick Parkay Margarine; 2 level tbsp. Hershey's Cocoa; 2 tsp imitation Vanilla; 1.5 TBSP Milk

8

The longer you beat it the Creamier it gets. Cool cake first before frosting. For Vanilla icing, use same recipe but omit Cocoa.