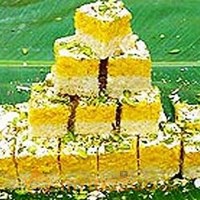 Kesar Kaju Burfi Recipe
| | |
| --- | --- |
| Preparation Time | |
| Difficulty | Moderately easy |
| Occasion | Diwali |
| Recipe Type | Sweets |
| Cuisine | South Indian |
Kaju katli (also known as Kaju Katri or Kaju barfi) is an Indian dessert similar to a barfi. Kaju means cashew nut in Hindi. Barfi is often but not always, made by thickening milk with sugar and other ingredients (dry fruits and mild spices). The kaju barfi recipe that include saffron and is known as kesar kaju katli. The kesar version of this sweet dish is considered to be more exotic and rich.[citation needed] It is an expensive dessert as compared to its counterparts.
Ingredients
Ingredient
Quantity
Calories
Fat
Cholestrol
Cashew Nut
500 gram
2755
220
Sugar
300 gram
1161
kesari
0.5 teaspoon
Orange Food Colour
0.25 teaspoon
3916
220
0
Preparation Method
1

Soak the Cashew Nutnuts in Water for 3 hours.Drain the Water and ground the Cashew Nutnuts,finely.

2

In a pan mix Sugar and Cashew Nutnuts,and roast on low heat,stiring constantly.

3

Mix Saffron and orange color in it.roast Till done.

4

on the rolling board place a Butter paper and pour the mixture on it.

5

Now place another Butter paper ,sandwhicAsafoetida powder the mixture between the two paper.

6

Roll it with rolling pin.

7

Remove the Butter paper from top and place silver warak,and cut the kesar burfi pieces.