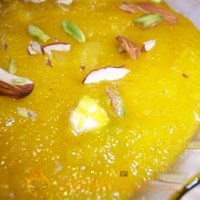 Pineapple Kesari Recipe
| | |
| --- | --- |
| Preparation Time | |
| Difficulty | Easy |
| Occasion | Diwali , Chirstmas, Birthday Party |
| Recipe Type | Sweets |
| Cuisine | South Indian |
Pineapple kesari is a delightful delicious Indian sweet Recipe.Pineapple kesari commands an unique place among Indian Indian sweet Keasari recipes.It can be had with cardamom powder.Its a very good evening time sweet.
Ingredients
Ingredient
Quantity
Calories
Fat
Cholestrol
Rava
1 cup
640.8
1.87
Pineapple
1 cup
77.5
0.15
Sugar
2 cup
1548
Water
2 cup
0
Ghee
0.5 cup
1033.76
112
29.12
Cashew Nut
50 gram
275.5
22
Raisins
50 gram
149.5
Cardamom Powder
1 teaspoon
7.6
0.02
Saffron
0.25 teaspoon
1.73
0.03
Pineapple Essence
0.25 teaspoon
0.12
0
kesari
4 drop
3734.51
136.07
29.12
Preparation Method
1

In 1 tbsp Ghee fry the Rava on a low flame Till a nice aroma comes and the colour changes. Remove it and place it in a plate and cool.

2

Add Cashew Nut and dried black grapes and fry them in 1 tsp Ghee.

3

Cook Pineapple in its own juice in a closed container for about 5 mts (or) on a medium flame in the gas for 5 min Till they become tender.

4

Heat the Water and Sugar together in a pan and stir them continuously Till Sugar dissolves and the syrup becomes slightly sticky.

5

First add the cooked Pineapple, mix well and then add the Rava completely in one stroke , and

6

keep stirring to prevent lump formation. Add the colour and spices now and the Ghee little by little and stir well.

7

Add 1/4 tsp Pineapple Essence for a very nice flavour.

8

When the kesari leaves the sides of the pan, remove and serve hot.