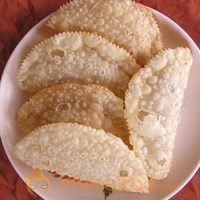 Karanji Recipe
| | |
| --- | --- |
| Preparation Time | |
| Difficulty | Easy |
| Occasion | Diwali |
| Recipe Type | Sweets |
| Cuisine | South Indian |
Ingredients
Ingredient
Quantity
Calories
Fat
Cholestrol
Wheat Flour
1 cup
450
249.9
Ghee
3 tablespoon
744.3
80.64
20.97
Salt
1 pinch
0
Oil
0.5 litre
4500
632.5
0.01
Coconut Grated
1 cup
442.84
4.8
Sugar
3.25 cup
2515.5
Milk
1.5 cup
152.99
2.97
1.47
Almond
1 tablespoon
80.36
6.9
Raisins
16 nos
95.68
0
0
Cardamom Powder
0.5 teaspoon
3.8
0.01
Poppy Seed
1 tablespoon
46.64
3.87
9032.11
981.59
22.45
Preparation Method
1

In a mixing bowl combine the Salt, all all purpose flour and Ghee. Rub in well. Gradually add Water and knead to form a firm dough.

2

Cover with wet cloth and set aside.

3

For the stuffing: Cook the Coconut (use fresh or dried) Sugar, Milk, chopped Almond and raisin, Cardamom Powder, and Poppy Seed(optional) Till the Milk evaorates.

4

Divide the dough into 20-25 sections, roll them out into flat round pancakes.

5

Place a spoon of stuffing at the centre and fold the pancake in half.

6

Use a cutter to create the fluted crescent border and cut off excess dough.

7

You can seal the edges by applying a little Milk and pressing down hard.

8

After all the karanjis are stuffed, fry them in very hot Oil for 2-3 minutes or Till golden brown, remove onto paper towels and allow to cool.

9

The karanji can last for 7-8 days if stored in an air tight container.