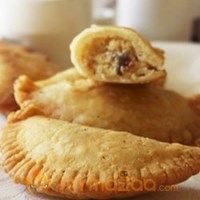 Gujia Recipe
| | |
| --- | --- |
| Preparation Time | |
| Difficulty | Easy |
| Occasion | Diwali |
| Recipe Type | Sweets |
| Cuisine | South Indian |
Gujia a cuisine of North India particularly Uttar Pradesh, Madhya Pradesh and Rajasthan is a sweet dumpling made with suji or Maida flour wheat flour and stuffed with khoya. The packaging of a gujhia is very much like that of a samosa, however the gujhia has a very distinct shape. The gujhia is filled with a mixture of grated and roasted dry fruits, khoya, coconuts and to add a grainy texture, a little suji (coarse ground wheat flour).
Ingredients
Ingredient
Quantity
Calories
Fat
Cholestrol
Khoya
1 kilogram
2000
Sugar
500 gram
1935
All purpose flour
500 gram
1775
Almond
200 gram
1148
98.6
Oil
6 tablespoon
1451.52
204
0
Raisins
3 tablespoon
44.85
Water
200 milliliter
0
8354.37
302.6
0
Preparation Method
1

Mix maida flour with 6 tbsp of Oil to make a soft dough and knead it lightly.

2

Cover with a wet cloth and leave it aside.

3

Deep-fry the khoa in a frying pan Till light brown in color.

4

Be careful not to over fry the khoa.

5

Add chopped Almond, Sugar and raisin and mix well.

6

Fry again for few minutes and then allow the mixture to cool.

7

Prepare a small and thick Chapati from the kneaded dough.

8

Stuff half of the Chapati with the khoa mixture.

9

Fold and draw the inwards edges of Chapati.

10

Deep-fry the Gujia on slow fire Till golden brown.

11

Drain the Oil properly after taking out the Gujia and store them in an airtight container.

12

Follow the same procedure Till the dough is consumed.

13

Enjoy the tempting sweet dish of Gujia.