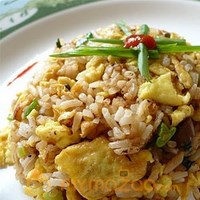 Egg Fried Rice Recipe
| | |
| --- | --- |
| Preparation Time | |
| Difficulty | Easy |
| Occasion | General |
| Recipe Type | Lunch, Dinner |
| Cuisine | Chinese Cuisine |
Egg fried can be made very quickly if you have leftover rice at home. This is the Chinese (Indo Chinese) method of preparing egg fried rice. Egg-fried rice is easy to prepare and tastes great as a meal on its own. For the best result, make sure the rice is cooked and cooled beforehand so it won't stick together when frying.
Ingredients
Ingredient
Quantity
Calories
Fat
Cholestrol
Rice
2 cup
1460
2.64
Onion
50 gram
20
0.05
Green Chillies
10 gram
4.5
0
0
Egg
3 nos
232.5
15.9
0.63
Ginger Garlic Paste
1 teaspoon
0.22
Mint leaves
50 gram
50
Bay Leaf
3 spring
59.94
Garam Masala
1 teaspoon
13
Vegetable Oil
3 teaspoon
238.08
26.88
Coriander Leaves
2 teaspoon
0.12
Salt
1 tablespoon
0
2078.36
45.47
0.63
Preparation Method
1

Fry Rice in a pan for 3 minutes. Let it cool down.

2

Wash the Rice and drain it

3

Add 3 cups of Water and cook it.

4

Cut the Onion in long slices. Split the green Chilieses and cut in half.

5

BOil the Egg in Water unTil cooked well.

6

Now add the Vegetable Oil to skillet and after the Oil is warm enough add the bayleaves, Onion to the Oil.

7

Stir the Onion and once they turn half brown add the Chilies to the Oil. Stir them so that they do not get sticked to the skillet. Add the Ginger / Garlic Paste and stir well.

8

Cut the cooked Egg into long slices. Add the Egg pieces and stir well.

9

After 4 minutes add the Garam Masala and stir for mixing properly.

10

Leave it on heat on 2 minutes and add the mint leaf before turning off the heat.

11

Now add the Cooked rice and gently mix, so that that Rice does not break. Decorate with Corriander leaves and serve with any raitha.