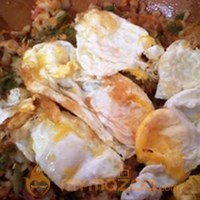 Ramadan Special ( Tastira ) Recipe
| | |
| --- | --- |
| Preparation Time | |
| Difficulty | Easy |
| Occasion | Ramzan |
| Recipe Type | Dinner |
| Cuisine | South Indian |
Ramadan Special ( Tastira )
Ingredients
Ingredient
Quantity
Calories
Fat
Cholestrol
Garlic
4 clove
17.88
0.08
Cumin Seed
1 tablespoon
22.8
1.26
Salt
1 pinch
Olive Oil
3 tablespoon
686.61
77.76
Green Chillies
0.66 cup
38.02
Green Bell Pepper
1.5 cup
45.36
Tomato
2 cup
44
Egg
4 nos
310
21.2
0.84
1164.67
100.3
0.84
Preparation Method
1

Tastira can be hot or mild, depending upon the type of chile Peppers used.

2

Mash the Garlic, caRavay seed, and pinch of Salt in a mortar and pestle or against the side of a mixing bowl.

3

Heat 1 tablespoon of the Olive Oil in a skillet over medium heat. Stir in the chile Peppers; cook and stir unTil the Peppers have softened, about 5 minutes. Remove them from the skillet and set aside. Add another tablespoon of Oil to the skillet and cook the bell Peppers and Tomatos unTil the Peppers are soft and the Tomatos have begun to break down, about 5 more minutes. Add the Tomato-bell Pepper mixture to the hot Peppers. Stir in the mashed Garlic and caRavay seed. Spoon the vegetables onto plates or a serving platter.

4

Heat the remaining Oil in the skillet. Fry the Egg unTil the whites are set and the yolks are the desired consistency, about 2 to 3 minutes for runny yolks, 4 to 5 minutes for fully set yolks. Place the fried Egg on the vegetable mixture and season to taste with Salt and Pepper.