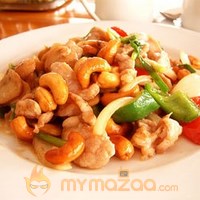 Cashew Chicken Recipe
| | |
| --- | --- |
| Preparation Time | |
| Difficulty | Moderately easy |
| Occasion | Dinner Party, Bonefire Party, Birthday Party |
| Recipe Type | Dinner |
| Cuisine | Chinese Cuisine |
The deep-fried version of the dish is closely associated with the city of Springfield, Missouri.Deep-fried cashew chicken was apparently first served in 1963 at the Grove Supper Club in Springfield. David Leong, the chef, who moved to the United States from China in 1940, struggled to gain acceptance for the foods of his homeland so he began searching for a dish that would appeal to local residents' taste buds. His famous deep-fried cashew chicken recipe was so popular he soon opened Leong's Tea House in Springfield.[2] The dish became exceedingly popular in the Springfield area and is often cited as the unofficial "dish of the city".
Ingredients
Ingredient
Quantity
Calories
Fat
Cholestrol
Boneless Chicken
3 nos
178.41
2.1
Chinese Pea Pods
0.5 tablespoon
0.14
Onion
4 nos
112
0.28
Bamboo Shoots
2 cup
69.12
0
0
Chicken Broth
1 cup
318.85
16.77
Soy Sauce
0.25 cup
33.15
0.02
Corn
2 tablespoon
31.68
0.44
Sugar
0.5 teaspoon
15.48
Salt
0.5 teaspoon
0
Salad Oil
4 tablespoon
918.72
104.4
Cashew Nut
4 nos
66.12
5.28
1743.67
129.29
0
Preparation Method
1

Slice breasts horizontally into very thin slices and cut into inch squares. Place on tray.

2

Prepare vegetables, removing ends and strings from pea pods, slicing Mushrooms, green part of Onion, and the bamboo shoot. Add to tray.

3

Mix Soy Sauce, Corn Starch, Sugar, and Salt. Heat 1 tbsp. of Oil in wok over moderate heat, add Cashew Nut nuts when Oil is hot. Stir fry and toss 1 min unTil the nuts are slightly toasted.

4

Remove and put aside.

5

Pour remaining Oil in pan, stir fry Chicken quickly, turning often unTil it looks opaque. Lower heat to low.

6

Add pea pods, Mushrooms, and broth. Cover and cook slowly for 2 mins.

7

Remove cover, add Soy Sauce mixture, bamboo shoot, and cook unTil thickened, stirring constantly.

8

Simmer uncovered a bit more and add Green Onion and nuts and serve immediately.